Mel and Laura Tracy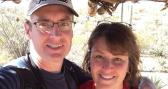 We're passionate about birds and nature. That's why we opened a Wild Birds Unlimited Nature Shop in our community.
Palos Park, Illinois
13012 S. LaGrange Rd.
Palos Park, IL 60464
Phone: (708) 361-8726
Email: Send Message
Store Hours:
Mon - Fri: 10:00 am - 6:00 pm
Sat: 9:30 am - 5:00 pm
Sun: 11:00 am - 4:00 pm

Additional Website:
Visit our other website
Comments:
Check out out on Facebook to see what's happening in the natural world! Be sure to "Like" us too!